Ectopic Expression of OsExtensin-like Gene in Rice Enhances Plant Lodging Resistance
July 19, 2017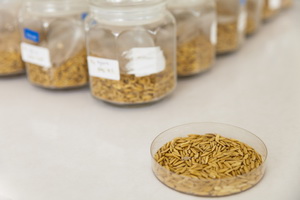 Plant lodging resistance is an important agronomic trait for grain yield and quality in crops. Extensin proteins are associated with plant cell growth and cell wall construction. However, little has yet been reported on their effect on on plant lodging resistance. A team from Huazhong Agricultural University in China, led by Chunfen Fan, isolated a novel extensin-like (OsEXTL) gene in rice, and expressed it in transgenic rice plants under two distinct promoters.
The two-promoter-driven OsEXTL-transgenic plants exhibited significantly reduced cell elongation in stem internodes, leading to relatively shorter plants compared to wild types. The transgenic plants also showed remarkably thickened secondary cell walls with higher cellulose levels in the mature plants, resulting in significantly increased mechanical strength.
Due to reduced plant height and increased plant mechanical strength, the OsEXTL-transgenic plants had enhanced lodging resistances compared to those of the rice cultivar ZH11. The OsEXTL-transgenic plants also maintained normal grain yields and biomass production.
This study demonstrates an improved lodging resistance in the OsEXTL-transgenic rice plants, and provides insights into extensin function in plant growth and development.
For more information, read the article in Plant Biotechnology Journal.
Biotech Updates is a weekly newsletter of ISAAA, a not-for-profit organization. It is distributed for free to over 22,000 subscribers worldwide to inform them about the key developments in biosciences, especially in biotechnology. Your support will help us in our mission to feed the world with knowledge. You can help by donating as little as $10.
See more articles:

News from Around the World

Research Highlights

Beyond Crop Biotech

Resources

Plant


Read the latest:


Subscribe to BU: