Dr. Elioda Tumwesgye, Ugandan Minister for Science, Technology and Innovation has reaffirmed government support towards the passage of a Biosafety Bill currently under parliamentary debate. The Minister spoke as he officially opened the Agri-biotechnology and Biosafety Communication (ABBC) 2017 Africa Symposium, in Entebbe, Uganda on July 18, 2017. "Agri-biotech communicators must remain steadfast in sharing factual information on the technology, amid misinformation, myths and misconceptions. While acknowledging that there are concerns and knowledge gaps that need to be addressed, he commended Ugandan researchers for their relentless effort in engaging parliamentarians and providing factual information on the science amid controversies delaying passage of the bill. "When scientists undertake to communicate about their innovations, there is usually a positive impact in adoption," said the minister.
Ectopic Expression of OsExtensin-like Gene in Rice Enhances Plant Lodging Resistance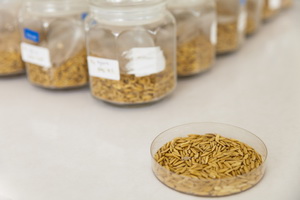 Plant lodging resistance is an important agronomic trait for grain yield and quality in crops. Extensin proteins are associated with plant cell growth and cell wall construction. However, little has yet been reported on their effect on on plant lodging resistance. A team from Huazhong Agricultural University in China, led by Chunfen Fan, isolated a novel extensin-like (OsEXTL) gene in rice, and expressed it in transgenic rice plants under two distinct promoters.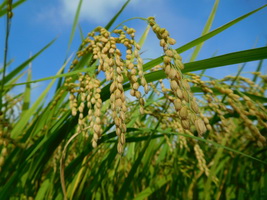 Occurrence of radiocesium in food has raised health concerns after nuclear accidents. Despite being present at low concentrations in contaminated soils, cesium (Cs+) can still be taken up by crops and transported to their edible parts. Such a plant capacity to take up Cs+ from low concentrations has affected the production of rice (Oryza sativa L.) in Japan after the nuclear accident at Fukushima in 2011.
A biweekly update on gene editing research, regulations, and impact
produced by ISAAA Inc.
A monthly update on gene drive research and development provided by ISAAA in collaboration with the Outreach Network for Gene Drive Research
Biotech Updates is a weekly newsletter of ISAAA, a not-for-profit organization. It is distributed for free to over 22,000 subscribers worldwide to inform them about the key developments in biosciences, especially in biotechnology. Your support will help us in our mission to feed the world with knowledge. You can help by donating as little as $10.