News
Global
José Graziano da Silva, Director-General of Food and Agriculture Organization of the United Nations (FAO), made an urgent call for countries to address all forms of malnutrition through transformation of food systems during his opening address to FAO's Council.
"The coexistence of undernutrition, obesity and micronutrient deficiencies, what we know as the triple burden of malnutrition, is spreading and affecting almost every country in the world. The international community needs to urgently address this situation by promoting transformative change in our food systems," Graziano da Silva said. "Our Zero Hunger Goal is not just about feeding people, but well nourishing people by providing everyone with the necessary nutrients for a healthy life," he added.
He also cited the report on 2018 State of Food Security and Nutrition in the World, which states that over two billion people globally suffer from micronutrient deficiencies and 672 million people are now obese.
Read more from FAO.
[ Send to a Friend | Rate this Article ]
---
One hundred and ninety-six Governments have agreed to scale up investments for sustainable development and harmonious coexistence of all life on Earth by 2050. This was during the United Nations Biodiversity Conference held on November 17-29, 2018 in Sharm El Sheikh, Egypt. Addressing the convention, His Excellency, Abdel Fattah el-Sisi, President of the Arab Republic of Egypt called for mainstreaming of biodiversity to all economic sectors in order to conserve natural resources for the coming generations.
Dr. Christiana Paşca Palmer, Executive Secretary of the United Nations (UN) Convention on Biological Diversity observed that since the convention came to force 25 years ago, meaningful progress has been achieved in conservation and sustainable use of biodiversity. Dr. Palmer, however, emphasized that these successes are not enough to halt the ongoing loss of plant and animal diversity on earth, urging all Governments to gear up efforts in conserving biodiversity.
The two weeks of deliberations and multilateral negotiations closed with a broad international agreement on reversing the global destruction of nature and biodiversity loss threatening all forms of life on earth. To combat this crisis, Governments agreed to accelerate action to achieve the Aichi Biodiversity Targets, agreed in 2010. The meeting also agreed on a comprehensive and participatory process for developing the post-2020 global biodiversity framework anticipated to be agreed upon at the next UN conference in Beijing in 2020.
The ISAAA delegation participated in the meetings, making statements on biosafety items in the conference agenda. ISAAA also co-hosted a side event on LMOs, synthetic biology and digital sequence information (DSI) on genetic resources. The event was co-organized by the Alliance for Science (AfS), the German Association of Synthetic Biology, International Genetically Engineered Machine (iGEM), Public Research and Regulation Initiative (PRRI), and SynBio Africa.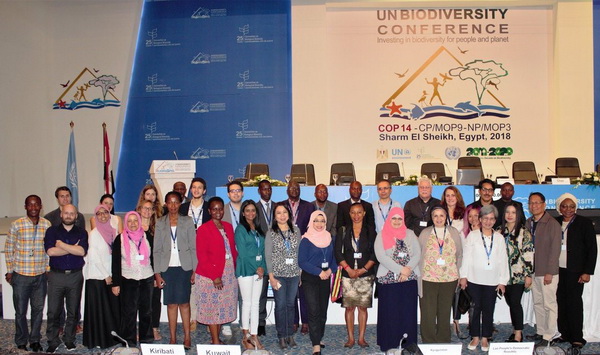 For more information, contact knowledge.center@isaaa.org.
Africa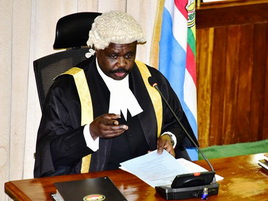 The Parliament of the Republic of Uganda finally passed the Bill designed to provide a regulatory framework for the safe development and application of biotechnology in the country.
The Bill, formerly known as the National Biotechnology and Biosafety Bill 2012, is now renamed as the Genetic Engineering Regulatory Bill 2018. The President deferred to sign it as a law pending 12 issues that require modifications.
Among the issues raised by the President are the establishment of a number of gene banks and seed banks to preserve biodiversity. Vice Chairperson of the Committee, Hon. Lawrence Akugizibwe said that "the Committee agreed with the President on the proposal to have a containment of Genetically Engineered Materials (GEMs) so that they do not mix with indigenous species by way of crossbreeding and pollination." Furthermore, the committee agreed with the President that a GEMs developer is fully liable for any negative effects that might arise from the use of GEMs.
Read the news release from the Parliament of the Republic of Uganda.
Americas
Researchers from Washington University in St. Louis led by Richard Vierstra describe the effects of autophagy on the metabolism of maize plants using a uniquely comprehensive set of modern "-omics" technologies. Autophagy is a process that helps break down damaged or unwanted pieces of a cell so that the building blocks can be used again. In plants, autophagy is often associated with aging, or a response to nutrient starvation.
Maize, or corn, is an important crop that is sensitive to nitrogen deprivation. According to Vierstra, the George and Charmaine Mallinckrodt Professor of Biology in Arts & Sciences, one of the largest costs to growing maize in terms of energy, expenditures and farmers' time is providing adequate nitrogen to fertilize the soil.
The group learned that maize plants lacking a key gene for autophagy are profoundly different at a molecular level — even if they're getting enough nutrients and appear to develop normally. Using state-of-the-art tools, the group compared and analyzed the transcriptome, proteome, metabolome, and ionome of maize seedlings grown with or without the autophagy-related gene ATG12, and fertilized with or without nitrogen. This allowed the team to identify cellular processes affected by autophagy. Once considered undiscriminating, autophagy is now considered to be highly selective, as only certain parts of the cell are specifically recognized and reused.
For more details about this research, read the news article in The Source.
[ Send to a Friend | Rate this Article ]
---
Guatemala sent its draft biotechnology regulation to the World Trade Organization (WTO) on May 29, 2018. The same draft regulation was notified by Honduras on June 5, 2018, with both countries agreeing to harmonize their Genetically Engineered (GE) regulation under the Guatemalan-Honduras Customs Union framework.
The draft GE regulation submitted to the WTO by Guatemala and Honduras seeks to harmonize the testing and commercialization of GE plants and animals. Both Guatemala and Honduras are signatories to the Cartagena Protocol, and the draft regulation is a reflection of the text proposed by the Protocol. The final regulation needs to be approved by the Ministry of Economy in Guatemala and the Secretariat of Economic Development in Honduras.
Guatemala as a WTO member supported the recent "International Statement on Agricultural Applications of Precision Biotechnology in Geneva at the World Trade Organization (WTO) Committee on the Application of Sanitary and Phytosanitary Measures" on November 2, 2018. Honduras also supported the Statement.
For more details, read the USDA FAS GAIN Report.
[ Send to a Friend | Rate this Article ]
---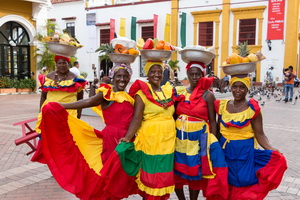 The USDA Foreign Agricultural Service Global Agricultural Information Network (GAIN) report on the status of agricultural biotechnology in Colombia has been released.
According to the report, Colombia remains open to the adoption of products derived from biotechnology and other innovative technologies. The area planted to genetically engineered (GE) crops in Colombia has decreased due to overall decline in corn and cotton plantings. The Colombian government and stakeholders have to finalize discussions on biotechnology regulations regarding low-level presence (LLP), GE labeling and Decree 4525 to stabilize Colombia's regulatory environment for GE products. These issues are potentially hindering the adoption of new technologies.
Colombia continues to import GE vaccines for animal diseases, and there is an increased interest from overseas companies and local governments in accessing the GE mosquito technology pending assessment on domestic regulatory jurisdiction and pathway.
For more details, read the USDA FAS GAIN Report.
Europe
An international team led by researchers at The University of Manchester has discovered why some plants "live fast and die young" whilst others have long and healthy lives. The study, published in Science Advances, helps in understanding how plant diversity is maintained, which could help improve nature conservation, natural habitat restoration, and growing healthier crops.
Through the use of new molecular techniques and existing knowledge of what different fungi do in soil, the researchers found that some plants harbored dozens of different harmful fungi in their roots, while others kept harmful microbes at bay and attracted many beneficial fungi that boost plant health. They also found that the balance between harmful and beneficial fungi depended on plant lifestyle, providing an insight into why some plants live fast but die young while others grow slowly but enjoy a long life.
Lead author Dr. Marina Semchenko from the University's School of Earth and Environmental Sciences (SEES) said that some plants are slow to grow, but enjoy long life by cooperating with beneficial fungi, while others grow fast and are initially successful, but then they are brought down by diseases caused by harmful fungi.
For more details, read the news article from the University of Manchester.
[ Send to a Friend | Rate this Article ]
---
Researchers from the Agricultural Research for Development (CIRAD) and National Institute for Agricultural Research (INRA) in France recently showed that inactivating a gene, RECQ4, leads to a three-fold increase in recombination in crops such as rice, pea, and tomato. The gene was found to inhibit the exchange of genetic material via recombination (crossover) during the sexual reproduction process in crops. This discovery could speed up plant breeding and development of varieties better suited to specific environmental conditions (disease resistance, adaptation to climate change).
Recombination is a natural mechanism common to all organisms that reproduce sexually. The chromosome mix determines the genetic diversity of species. The plant breeding practiced for the past 10,000 years involved crossing two plants chosen for their complementary worthwhile characters. For instance, to obtain a new tomato variety that is both tasty and pest- or disease-resistant, breeders cross and breed, via successive recombinations. However, this is a lengthy process, as very few recombinations occur during reproduction. To find out what limits the number of recombinations, researchers from INRA identified and studied the genes involved in controlling recombination in Arabidopsis. They discovered that one gene, RECQ4, is particularly effective at preventing crossing-over. Researchers examined three agriculturally valuable species: pea, tomato, and rice, and they succeeded. They found that by "switching off" RECQ4, they trebled, on average, the number of crossovers, resulting in greater chromosome shuffling, hence increased diversity, with each generation.
More details are available in the news article from CIRAD.
Research
Scientists from Jilin Academy of Agricultural Sciences in China successfully developed transgenic soybean lines with increased multiple virus resistance. The results are published in Transgenic Research journal.
Xiangdong Yang and colleagues generated genetically modified (GM) soybean lines constitutively expressing the double-strand RNA specific ribonuclease gene PAC1 from Schizosaccharomyces pombe to assess their resistance reactions to multiple soybean-infecting virus strains and isolates. Evaluation of resistance for the span of three years showed that the GM lines had significantly lower levels of disease severity under field conditions and exposed to soybean mosaic virus (SMV) SC3 strain, compared to non-GM lines. Furthermore, exposure to four additional SMV strains and other viruses (bean common mosaic virus, watermelon mosaic virus, and bean pod mottle virus), the GM plants showed less severe symptoms and better resistance compared to non-GM plants.
Based on the findings, PAC1 overexpression can improve multiple virus resistance in soybean.
Read the research article in Transgenic Research.
[ Send to a Friend | Rate this Article ]
---
Scientists from the University of California, Riverside (UCR) led by Dr. Meng Chen illustrates how plants sense temperature using genetic triggers in model plant, Arabidopsis. Their paper is published in Nature Communications.
Chen and colleagues studied the role of phytochrome B, a molecular signaling pathway that may play a vital role in how plants react to temperature. They observed phytochrome B in Arabidopsis at 21 degrees Celsius and 27 degrees Celsius under red light. The monochromatic wavelength allowed the team to study how this particular plant sensor functions without interference from other wavelengths of light. Results showed that phytochrome B works as a temperature sensor during the day in the summer. The results also led them to HEMERA, a transcription activator that turns on the temperature-responsive genes that control plant growth. The team regards it as the master control for temperature sensing in plants.
The researchers plan to expand their study to further understand how plants react to temperature in molecular levels. They perceive that the findings will help other researchers engineer crops that produce better yields amidst warmer climates.
Read more about the study from UCR.
New Breeding Technologies
Cavendish banana takes almost half of global banana production worldwide. However, improvement of this cultivar is difficult because it is essentially sterile. Thus, scientists from Queensland University in Australia used CRISPR-Cas9 gene editing system to deliver a self-cleaving guide RNA designed to target the Phytoene desaturase (PDS) gene in the Cavendish cultivar Williams.
The researchers reported that genotyping of 19 various events showed the successful modification of the PDS gene through insertions or deletions at the target cleavage site. Disruptive changes were observed in 63 percent of the plants, which was characterized by albinism and dwarfing. Editing efficiency was observed to be dependent on both target site selection and Cas9 abundance.
The results of the study show that the CRISPR-Cas9 modification system could be used to develop better Cavendish banana with favorable traits such as disease resistance and other important agro-traits.
Read more from Transgenic Research.
[ Send to a Friend | Rate this Article ]
---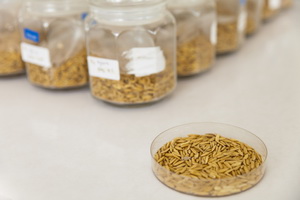 Arabidopsis BIG (AtBIG) gene encodes a large protein necessary for auxin transport and when turned off leads to changes in plant structure and adaptability to environmental stimuli. A similar gene (OsBIG) is present in rice, but its function is yet to be revealed. Thus, scientists from Wuhan University in China conducted a study to characterize the gene structure and function of OsBIG.
Analyses showed that versions of the OsBIG have high amino acid conservation in several domains in different species. For further analysis of loss of function, CRISPR-Cas9 system was used to develop transgenic rice plants with disrupted OsBIG. The transgenic plants exhibited several symptoms of seedling lethality such as cell death, reduced chlorophyll content, and high electrolyte leakage.
The results showed that OsBIG is vital for normal growth and development of rice plants.
Read the research article from the Journal of Plant Physiology.
Beyond Crop Biotech
Hazelnuts have been consumed by humans since the Mesolithic era, and today, they're the third most commonly grown nut, after almonds and walnuts. Italian hazelnuts fetch the highest price, followed by those from Turkey, the U.S., Georgia, and Azerbaijan. Consumers today are willing to pay more for better nuts, and testing methods are needed to reliably authenticate the nuts' country of origin.
Previous studies evaluated analytical techniques for chemically profiling hazelnuts, but they focused either on a small region or on particular hazelnut varieties. Thomas Hackl and colleagues at the University of Hamburg wanted to find a method that could pinpoint geographic origin regardless of variety.
The research team ground up 262 nut samples from different regions around the world and extracted the metabolites, which they identified with proton NMR spectroscopy. The spectra showed that nuts from different regions had different metabolite profiles, with certain compounds proving distinctive for specific areas. For example, the amount of betaine, an amino acid derivative, varied significantly in nuts from different countries. Thus, betaine could potentially be a good biomarker in a future test to identify the source of a particular batch of nuts, the researchers say. The team's new NMR method with an accuracy of 96 percent provides a more accurate determination and could be used in combination with a previously devised test that assessed a different group of hazelnut metabolites using liquid chromatography and mass spectrometry.
For more details, read the news release from the American Chemical Society.
[ Send to a Friend | Rate this Article ]
---
As researchers and scientists use the tool CRISPR to correct genetic errors, they are aware that it may have side effects on the human genome. Now, researchers from the University of Copenhagen have learned how the molecular machinery behind CRISPR works and thus, expect to be able to fine-tune CRISPR and remove the undesired effects.
In a new study published in Cell, researchers from the Novo Nordisk Foundation Center for Protein Research described how one of the CRISPR technologies, Cas12a, works all the way down to the molecular level, making it possible to fine-tune the gene-editing process. The researchers mapped the technology and took photographs of the different shapes of the molecule when CRISPR-Cas12a cuts up the DNA strand. They combined it with a technique called 'single molecule FRET' that directly observes the motions of the molecules and the sequence of events for each individual protein. This sequence of events revealed that three "pieces" of the CRISPR tool must change form for the DNA to be cut properly.
The researchers said that their findings can explain why CRISPR can have side effects on the genome. Once the DNA strand has been cut, the three 'security checks' remain open, which make the process last longer than wanted, because the machinery behind gene editing continues to run and can cause genetic changes. The researchers expect their new knowledge to put an end to this, and fine-tune the gene-editing technology right away.
For more details, read the news article from the University of Copenhagen.
Document Reminders
Agroconsult Consultancy, with support from the Council for Information on Biotechnology (CIB Brazil), released the report titled 20 Years of GMOs: Environmental, Economic, and Social Benefits in Brazil. The report highlights the GM crops adoption benefits for farmers including reduction in the application of pesticides per hectare, fewer losses caused by pest, and better productivity and yield of the GM crops compared to conventional crops.
Download the Executive Summary of the report from CIB.
---
A total of 24 countries planted 189.8 million hectares of biotech crops in 2017. Know more about the countries that planted biotech crops from the updated ISAAA infographics.